19th Century Giant Axe
Lancaster City Football Club play at Giant Axe, located close to Lancaster railway station and both Lancaster Castle and Lancaster Priory Church. Below are two photographs taken of the playing fields as they were nearly fifty years before the football club was formed in 1905.
Giant Axe Playing Fields, circa 1868, pre-LCFC

Giant Axe playing fields, circa 1878, pre-LCFC
20th Century Giant Axe
Giant Axe has been Lancaster City's home ground since the formation of the original club in 1905, although the club played its first two home games at Quay Meadow, located behind the buildings on St Georges Quay.
Giant Axe Field was given it's name as it was the centrepiece of a sports club. The exterior wall was, when viewed from above, the same shape as an axe head. In those early years tennis, hockey and rugby were also played at the ground and the football pitch was at the centre of a huge circle of grass called 'the sixpence', which also featured cricket pitches.
Late 60's aerial view of the grounds, showing the old running track and football stadium
21st Century Giant Axe
Giant Axe stadium has been the club's home since the early days, but has been heavily renovated since the mid to late 1990s. The 513-seat Main Stand, which used be a standing terrace, was converted into a modern all-seater stand and was renamed The John Bagguley Stand in 2011 after the club's late Life President.
The John Bagguley Stand
In the late 90s a new open terrace was built at the South end of the ground known as the Club End Terrace, which boosted the capacity of the stadium to 3,500. Behind the Club End Terrace is the club's main car park and offices that can be accessed via West Road.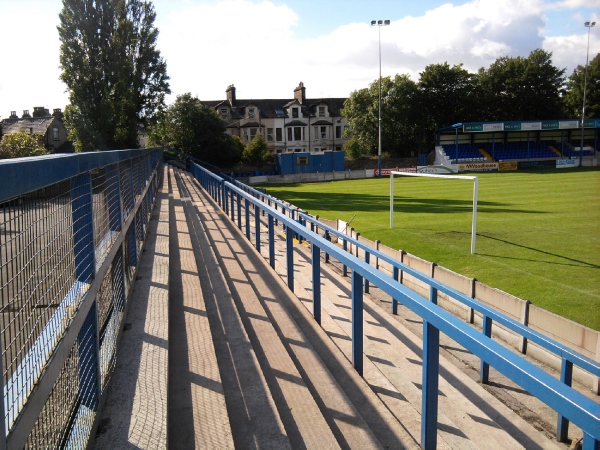 Stood on the Club End Terrace looking towards the John Bagguley Stand
A covered terracing called The Shed End stands at the other end of the pitch. This smaller and much older terrace has also been renovated in previous years. Originally a much narrower stand, the terrace was extended to run nearly the full width of the pitch and is completely covered by a low roof that provides a great match atmosphere. Behind The Shed End is a small car park accessible via Long Marsh Lane.
The Shed End in the close season sun
Opposite the Main Stand is the Long Side, a small open terrace which runs the length of the pitch and also plays host to the club shop, a raised sponsors hospitality box, the temporary Supporters' Bar and the dugouts.
The club's old social club, The Dolly Blue Tavern, was vacated the Dolly Blue Tavern in the summer of 2012. A new club bar is now located inside the ground adjacent to Dollies' Diner. The club office is now located at the rear of the Club End terrace.